Yayoi Kusama
Since we are exploring themes of infinity and collidescope in a somewhat crazed atmosphere I thought I would introduce Yayoi Kusama.
Yayoi was an active artist in the 60s in New York and is now working in Japan. She lives in a mental institution by choice. She sees spots everywhere to infinity. She is 77 yrs old.
http://en.wikipedia.org/wiki/Yayoi_Kusama
Yayoi now.
Yayoi in the 60's
I am especially inspired by her for set and costume elements..
This is a room, like a closet, but with this world inside. You step out onto a dock and its like being surrounded by rice patties with water all around and lights falling from the sky in strands. All this with mirrors on every wall to replicate to infinity every spark.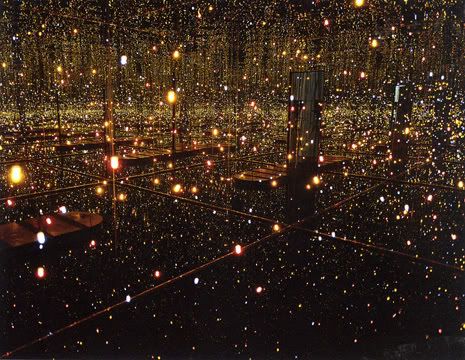 This reminded me of the secret lunchbox society ;) or could branch off into props (i.e. presents that the Twins exchange.. pandora's box)...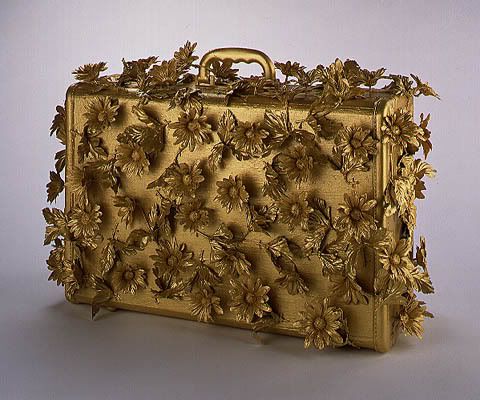 I thought this was pretty funny
THE POLKA-DOT DIVA: A ONE-ACT PLAY
(p.s. Emma+ everyone,, she has also done performance art deriving from Alice in wonderland)...
Yayoi Kusama, Installation, Between Heaven and Earth,
Fuji Television Gallery, Tokyo,1991,
Foreground, A Boat Carrying My Soul (detail), 1989,
Sewn stuffed fabric, wood 80 x 340 x 160 cm.
Center, Heaven and Earth (detail), 1991,
Sewn stuffed fabric, wood h.130 cm.
Background right, Stamens in the Sun, 1989,
Sewn stuffed fabric, wood, paint 240 x 561 x 19 cm.
Collection, The Museum of Modern Art, Toyama, Japan.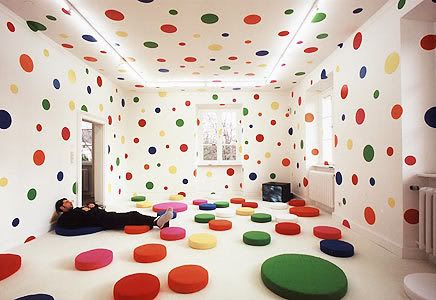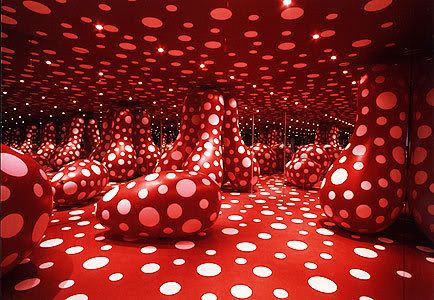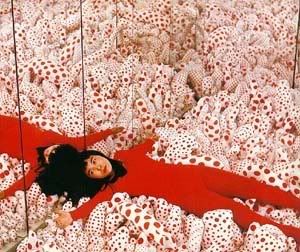 I have been thinking about costumes, and how they could be connected, or seeming to be...or at least the idea of their energies connecting personified into costume elements. I like how her sculpture dresses blob out like they are alive or are full of energy. In this way the costumes can also be manipulated through dance and movement and the actors are almost like live puppets. When/if we bring this show to Prague the next step might be to reduce the characters to puppets with prerecorded dialogue.
http://en.wikipedia.org/wiki/Yayoi_Kusama
http://www.kunstverein-bs.de/y_kusama/werke.html
http://www.momat.go.jp/Honkan/Yayoi_Kusama/index.html
http://www.bombsite.com/archive/kusama/portfolio/index.html
http://www.yayoi-kusama.jp/
This is neat in an Italian futuro cheese way,,, but good because it walks you around her installations.
I like the glowing ladder that has mirrors at either end. In the Italian dialogue I caught the word spirituality. I like how the Ladder joins the below and the above as it replicates itself in the mirrors.